Star Wars: the Old Republic represents one
element
of the considerable expanded universe. It's also fairly recent, and thus represents what a modern player
might
expect from a Star-Wars like game. It features an exceptional cinematic that captures both the feel of the MMO for which it advertises and the sort of gameplay I imagine most players would want out of Star Wars (Old Republic has a nice balance between Force-Users and Non-Force Users, so people who want to play smugglers and agents can join up with Jedi Knights and Sith Inquisitors, which seems close to how I imagine a Psi-Wars game playing out).
You can see the fight here
. The action starts at 2:47 (which I've already cued up for you). Since I expect you're unfamiliar with the characters, I quick introduction:
The two Sith are Vindican, Sith Pure-blood, Inquisitor and master, and Darth Malgus, Sith Warrior and apprentice.
Vindican, Sith Inquisitor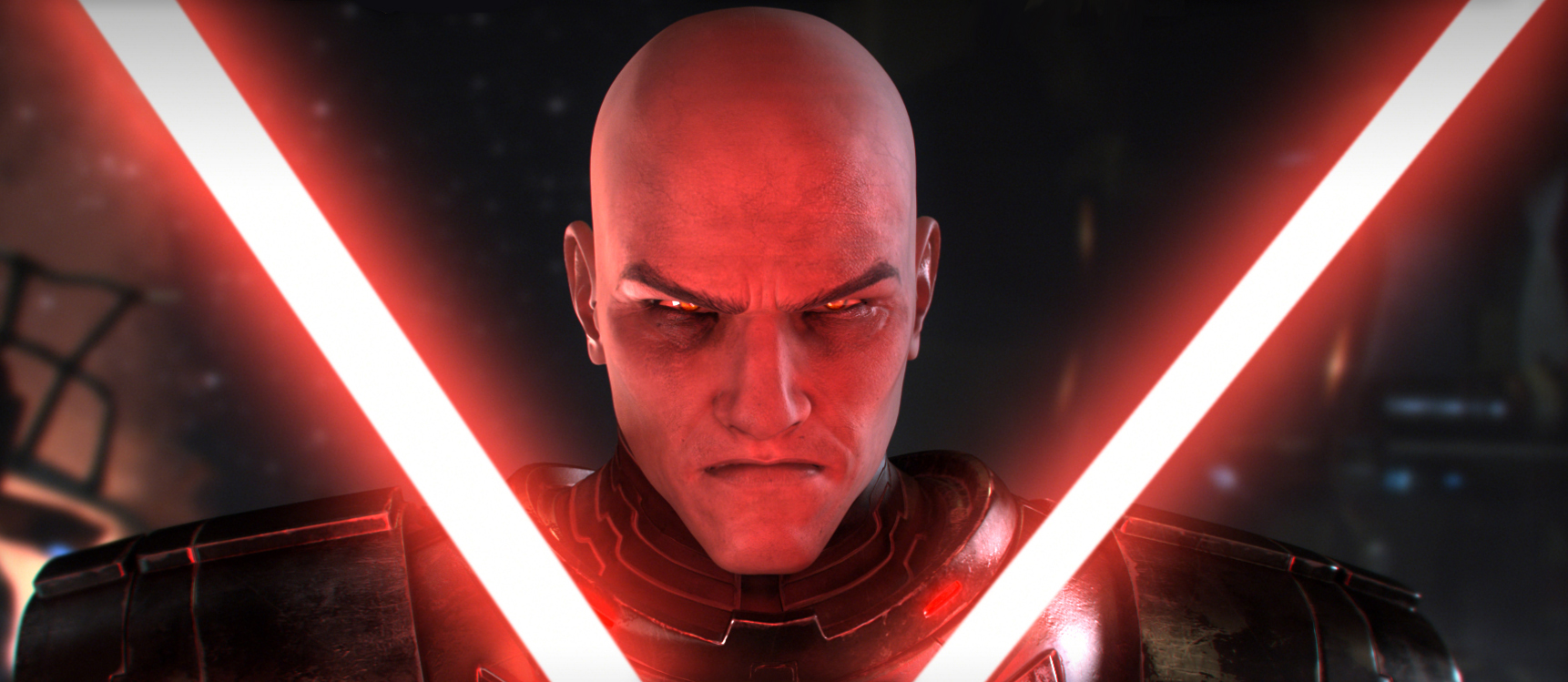 Darth Malgus, Sith Warrior
The two Jedi are Kao Cen Darach, Zabrak Jedi Knight and master, and Satele Shan, Jedi Consular and apprentice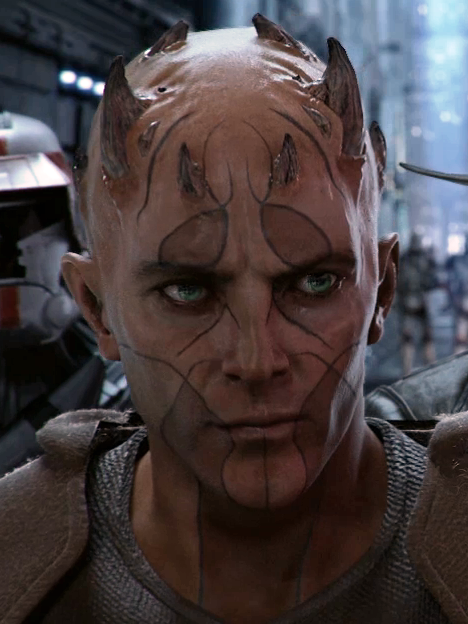 Kao Cen Darach, Jedi Knight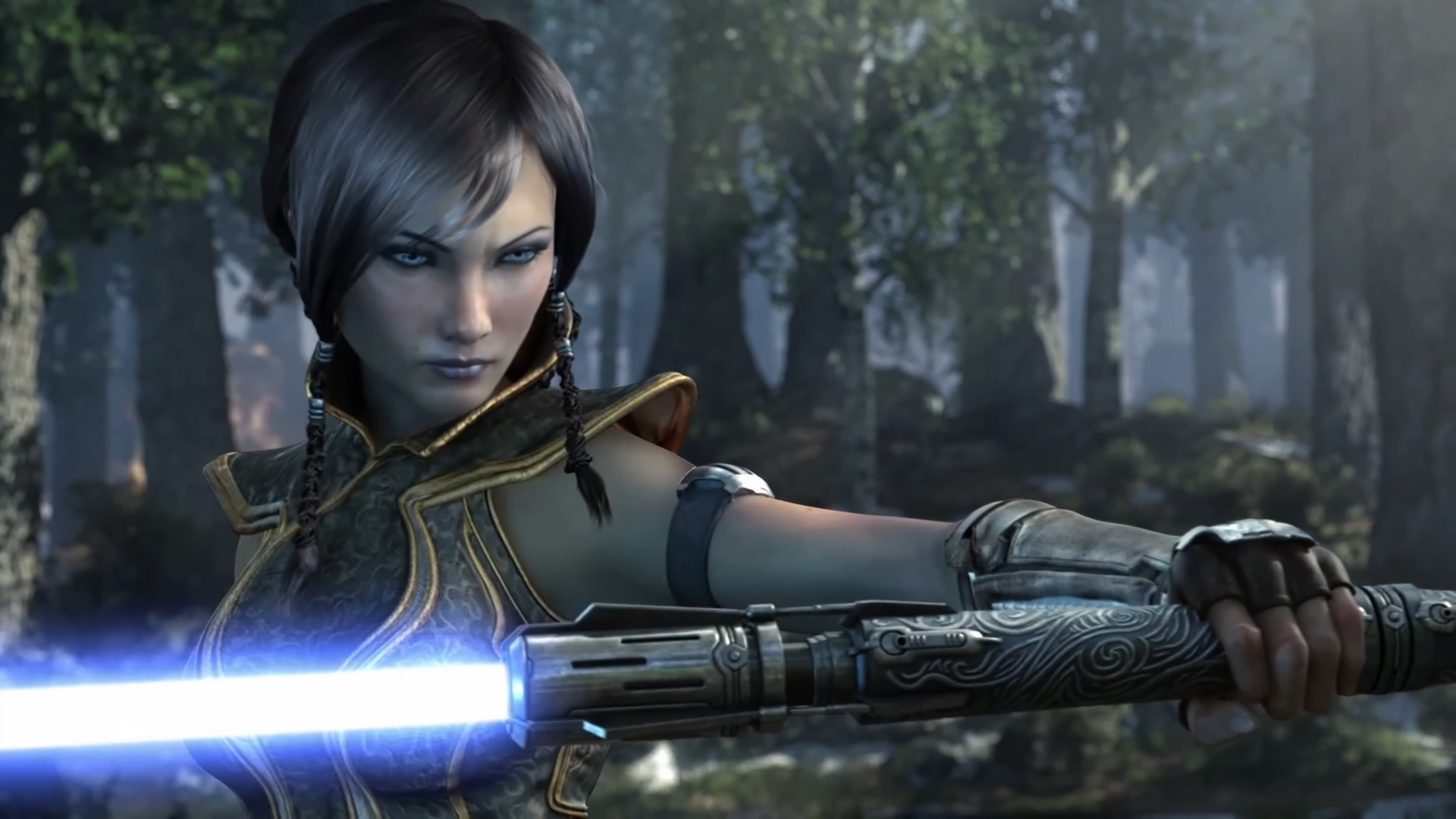 Satele Shan, Jedi Consular
The Fight
Turn 1
Vindican and Darth Malgus have arrived. They activate their lightsabers and Move to meet their opponents.
Satele Shan and Darach Move towards Vindican and Darth Malgus. Both activate their lightsabers as part of their movement (which can be done as part of fast-draw), and their lightsabers fully activate by the end of that second.
Turn 2
Vindican makes a Spinning attack (-2) at Darach, and succeeds (barely) at the contest, but Darach makes an Acrobatic dodge.
Darth Malgus makes an Acrobatic Attack (-6, a roll higher than 9 always misses), with an Evasion (flipping over his opponent) and making a run-around attack against Satele (-2), who parries while turning while making a slip retreat.
Darach makes a Force Sword swing at Vindican's head (-5), who parries.
Satele makes three rapid strikes (-3) with both ends of her lightsaber staff at Darth Malgus, who parries both attacks, while in a defensive grip, thus parries at +1, +0 and -1.
Turn 3
Vindican teams up with Malgus against Satele by making a spinning attack against her legs. She makes a Timed Defense (-2) parry against his attack.
Malgus makes a spinning attack against Satele as well, but Darach makes a sacrifical parry (requiring a perk) to defend her.
Darach Beats Malgus' lightsaber (An ST-based force sword contest with Malgus' ST- or DX-based force sword), but his intent seems to be to defend Satele, so perhaps he's used the Defensive Feint rules
Satele chooses to All-Out Defense, and spins her staff dramatically while turning in place (perhaps she spins to face whatever direction she needs to, while also gaining an acrobatic bonus to some defense)
Turn 4
Vindican makes a deceptive (-?) rapid (-3) strike against Darach, and then makes a spinning (-2) back (-2) attack against Darach, who parries effectively.
Darth Malgus chooses not to attack, given that his lightsaber was beaten, but to focus on all-out defense.
Darach makes a spinning (-2) attack against Vindican, who parries.
Satele makes a deceptive attack against Darth Malgus' head (-5), but he parries.
Turn 5
Vindican makes a deceptive attack (his saber-staff is spinning, but it's not a spinning attack. Instead, it's a reflection of his deceptive attack). Darach makes an acrobatic dodge (and a slip retreat)
Darth Malgus Evaluates Satele
Darach completes his acrobatic movement with a skid around to the back of Vindican
Satele presses the attack with a deceptive attack against Malgus, who parries while retreating.
Turn 6
Vindican makes a thrust at Darach's face (or eye!) but Darach dodges.
Darth Malgus continues his Evaluation, as he waits for the right moment.
Darach makes a rapid Beat (he hammers Vindican's staff-saber down) and then makes a swing for Vindican's torso. Vindican parries.
Satele makes a flying attack (-5) against Malgus, who parries.
Turn 7
Vindican is off-screen.
Darth Malgus Waits for Satele to attack.
Darach is off-screen.
Satele makes a thrust for Malgus' head, who parries and then grapples her staff-saber (-6 for a small weapon like a staff's hilt, halved for grappling) while she's attacking. He succeeds.
Turn 8
Vindican is off-screen
Darth Malgus knees (-1) her in the solar plexus (Martial Arts p137). If your opponent is grappled (and Satele is), she defends at -2, and since her weapon is grappled, it's at an additional -2 to parry, thus her only option is to dodge and she fails. Any damage causes a stun check, and she critically fails. The GM rules she drops her saber-staff.
Darach is off-screen.
Satele is stunned. She does nothing.
Turn 9
Vindican is off-screen.
Darth Malgus makes an All-Out Attack for the stunned Satele. She is unable to parry. Darach makes a long-distance (!) sacrificial parry with a light-saber throw.
Darach's lightsaber throw alsodoubles as an attach on Vindican, who dodges by ducking.
Satele recovers from stun. She was evidently only crouching, because she rises as part of her step and makes a Jump Kick (-4). She hits, and he cannot defend because he made an All-Out Attack
Turn 10
Vindican Beats Darach's lightsaber and fails (Darach uses a DX-based defense by letting it spin him)
Darth Malgus is off-screen (perhaps stunned?)
Darach makes a spinning (-2) pommel strike (karate-1) against Vindican's face (-5) which will can trigger a stun if any damage is dealt. Vindican fails to parry, but his helmet protects him.
Satele is off-screen (presumably recovering her lightsaber staff)
Turn 11
Vindican makes a Counterattack against Darach, who Dodges.
Darth Malgus is off-screen
Darach moves off-screen. He presumably waits for Vindican to attack him.
Satele makes a flying leap (-5) attack against Vindican. He makes a Power-Parry with Lightning (Powers 168 says that in games inspired by comic books, that a power parry can parry anything). Perhaps he critically succeeds knocking her out of the air (alternately, he waits and attacks when she attacks, and this turn should be split into two different turns)
Turn 12
Vindican turns to attack Darach, but Darach interrupts with his attack, making a Stop Hit. Darach makes a TK thrust and succeeds, making it exceptionally difficult for Vindican to defend, and he's hit and goes flying.
Analysis
This fight is heavily inspired by the Duel of the Fates battle in the Phantom Menace. Its intent seems to be to take everything from that fight, and turn it up to 11. What's better than 2 Jedi fighting 1 sith? 2 Jedi fighting 2 Sith! What's better than one double-bladed light-saber? Two double-bladed lightsabers! What's better than a fast, kinetic fight? A faster, more kinetic fight!
The entire battle takes place in approximately 30 seconds, and it moved so fast that I'm sure I missed a few strikes. This is by far the most complex fight yet, with more techniques, trading off of partners, and even more use of force powers.
As in the Phantom Menace duel, spinning attacks seem common, and the spinning of the blade seems to signify either a flourish or a deceptive attack. There's plenty of movement that seems to do little, with Satele the greatest offender (though she's not as bad as Obi-Wan was. Her attacks actually need to be parried!).
Again, some personality emerges: Darth Malgus is patient, effective and brutal, almost able to defeat Satele. He's clearly inspired by Darth Vader (as most Sith Warriors on the Old Republic are). He's also physically very strong and resorts to physical conflict to win. Vindican is less effective, though still skilled and more prone to using his force powers (interestingly, he seems to use ergokinesis exclusively, which fits the Psi-Wars model nicely). Darach is very adept at psychokinesis, and seems more worried about defending Satele than winning his match. Satele seems over-excited, and makes many rookie mistakes. There is some tactics in the sense of trying to double-team a character once the fight turns to two vs 1, which both sides attempt.
If I had to pick something this fight reminds me of,
it would be the sort of combat we see in anime
. In a sense, this completes Star Wars' slow, 30 year transformation from a rather artistic homage to samurai movies to full on comic-book status. The sort of people who enjoyed Star Wars were also the sort of people who enjoyed comics and video games (and plenty of both have been made for Star Wars), and thus the logic of Jedi and their duels more closely resembles that of super-hero battles, with characters slinging around powers at will, with extremely rapid, action-oriented fights. When I was younger, I remember debates between my friends about Star Wars, that if X character could do Y, he could do Y all the time, and there was no reason for him not to. This fight reminds me a great deal of that, where characters never seem to tire and have perfect mastery over their powers, able to whip them out, dramatically, in an instant. Contrast with this the slower, more emotional combat of the original trilogy, though note that Force Awakens returns to this older, less "perfectly competent" model of force-swordsmanship.
I say this not as a criticism, but as a note on changing expectations. I would further note that I expect the average player would probably prefer Psi-Wars to fall more on the SWTOR side of the force-swordsmanship spectrum than on the Empire Strikes Back side. I expect he'd be surprised if I included rules like the Last Gasp and encouraged lots of Evaluate and slow, powerful attacks, and would expect, instead, to see lots of spinning, lots of acrobatics, lots of jumping around and double-bladed lightsabers whirling about while people blast at one another with the psycho- or ergo-kinesis.
Fans have even institutionalized this sort of logic
by suggesting combat techniques like these
,
which have actually made it into works like the Clone Wars
. However, these techniques require assumptions, like instant force-sword activation, or the ability to combine Concentration with Attacks, not all of which might be possible in Psi-Wars.
That's why I analyzed this fight, because it allows me to look at what fan expectations have become outside of the films. When you sit down at the tabletop to run a Star-Wars inspired game, it doesn't matter what George Lucas thinks of your game, or J.J. Abrams, or Mark Hamill, but what your players think of the game, and your players are more likely to be playing Star Wars: the Old Republic or reading diagrams like that than they are to be discussing the intricacies of the kendo-inspiration of the Empire Strikes Back and wishing for more subdued fights
(Which isn't to say that all players will be like that, but be aware of your players expectations, and adjust accordingly).
For my purposes, I think I'll find some level of middle-ground between the extreme comic-book level of what Jedi have become in the extended universe, and the subdued combat of the Empire Strikes back. I want this because the sorts of techniques that the Old Republic Jedi pull off requires skill in the level of 20+, plus several well-trained psionic powers, which easily makes them 400-500 point characters, while your typical non-jedi is clearly closer to the 200-300 range. Unless I want space knights to dominate the game, they need to play with the same point totals as everyone else, which means that bounty hunters and smugglers get to be really cool, and space knights have to be a little more mundane.