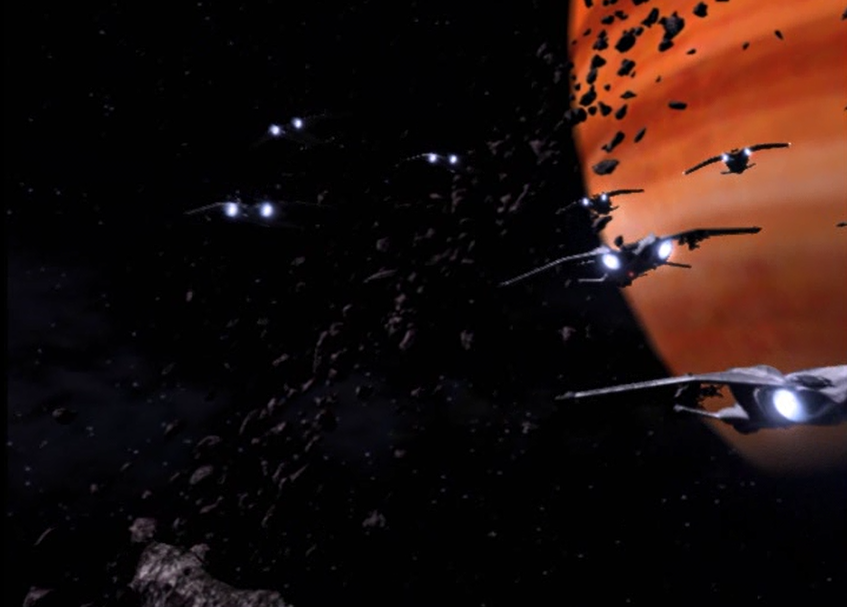 Now that we have an update to our
Action Vehicular Combat
, integrated the Chase rules, the Dogfighting rules and a few additional expansions, we need to test it out, with our newly revised Typhoons and Starhawks! Naturally, we need pilots, so we'll choose our old friend Tobin Starlaw, to whom we'll give this fancy new Ace Fighter advantage, and we'll choose Starlet as his wingman. Starhawks are superior to Typhoons (they certainly cost more), and Tobin and Starlet are superior pilots, so they should be able to easily handle an array of mook fighters. Thus, for this battle, we'll have the pair face off against a wing of 5 typhoons in an asteroid field (Rough, Normal terrain which starts at Distant range).
For simplicity, Tobin has Pilot 18, Gunnery/Artillery 16, Daredevil and Ace Fighter. Starlet has Skill 15 in everything pertinent. Tobin has an ally Tech-Bot with skill-18 in anything pertinent (mainly Electronics Operations, Hyperspace navigation and doing quick repairs). Starlet has some lame, run of the mill robot with no personality and skill 12.
The Starhawk stats are here
. What matters most is that the Starhawk has the following traits:
140 HP, HT 11




An absolute maximum speed (for escape) of 650 (+14)




+4 Dodge (in high agility)




A best possible Chase Roll (high agility, afterburner) of +17




+4 accuracy on its missiles (4 missiles), with 6dx10 damage




-4 ECM (and a decoy launcher)




ROF 12 cannon (+2 to hit), with 6dx5(5) damage




DR 15 and force screen DR 200 which can be angled.



90 HP, HT 9f




An absolute maximum speed (for escape) of 750 (+15)




A best possible Chase Roll (afterburner) of +15




+5 dodge




-4 ECM (and a decoy launcher)




ROF 6 between two cannons (+1 to hit), with 6dx5(5) damage




DR 15