I have a draft back in Iteration 3 that never got published, nor finished, for Thug mooks.  So far, we've limited ourselves to military-scale opponents, because the most common opponent in Star Wars is a stormtrooper, and Star Wars treats its enemies as more-or-less interchangeable when it comes to difficulty.  Psi-Wars, being an Action game, accepts the notion of differing BAD levels, and thus differing levels of competency from its opponents.  Thus, we'd expect Psi-Wars troopers to be
better than some opponents, and worse than others
.  We'd also expect them to fight with
different tactics
.
A hive of scum and villainy
This creates a scale of opponents, and on the low end of that scale would be gangsters, thieves and punks, the sorts of people who might frequent a cantina.  While they might be dangerous or well-armed, they're ultimately just civilians.  They lack military discipline, skill and, most importantly, back-up.  If a soldier is BAD 12-14, then a gangster might be BAD 10-12.
But they have something in common with an another archetype: the upper-crust civilian.  Both thieves and nobles will typically carry only a personal weapon, one that they carry as much to signal status as to protect themselves.  Both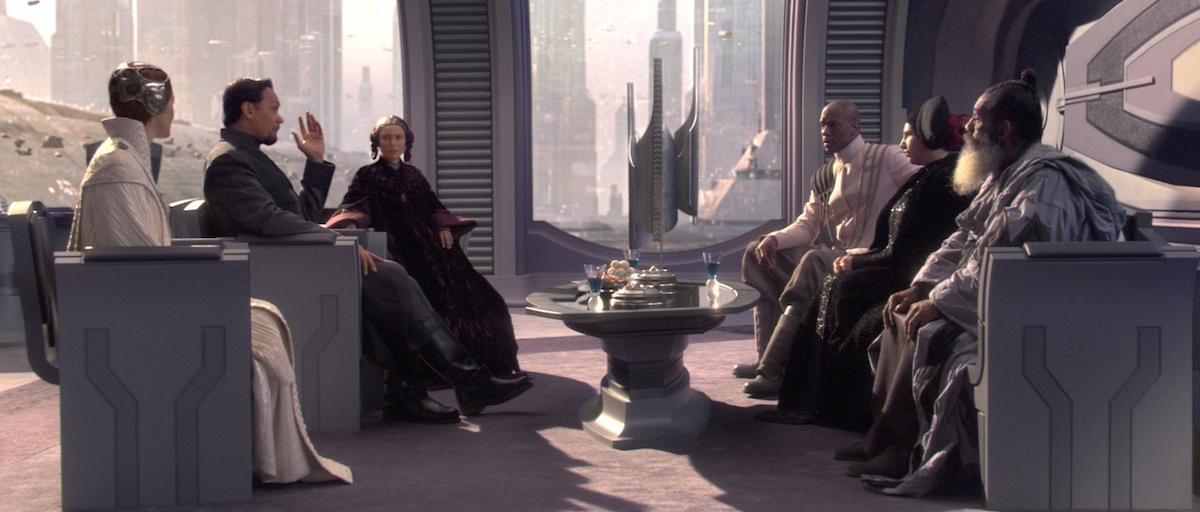 A haven for elegance and wealth
might view personal combat (under strict rules) as a means to advance their personal status.  In both worlds, it's highly inappropriate to walk in wearing full armor and carrying a full complement of military gear, especially if your objective is to negotiate with the other party.  In both worlds, that negotiation might suddenly go south, and might suddenly turn very violent, so it behooves one to be well-protected, and in both worlds, the ideal form of protection are
body guards
... and making sure the other guy isn't particularly well armed.
We don't actually have stats worked out, but we can extrapolate them pretty nicely.
Standard Civilian Combatants
A typical civilian wears little to no armor (rarely more than an armored coat or a thin armored vest under their clothes).  Expect no more than 20 DR in a few, strategic locations.  Civilians rarely carry heavy weaponry.  Most thugs will be poor and will rarely carry anything more expensive than a blaster pistol or a vibro-knife, and might even wield some improvised equipment.  Nobles will have more expensive items, but not necessarily much more effective, as they're more worried about ornamentation (and statement) than self-defense.  Expect weapons like elegant holdout blasters, ornate vibro-blades, or perhaps even a force sword.  In both cases, most skill levels will be between 10 and 12.
In combat, many civilians will be non-combatants, which means they'll lack combat reflexes, freeze up if surprised, and may well panic and simply run, or attack wildly while trying to escape.  More combat-savvy characters (battle-tested gangsters or former soldiers) will fight with greater precision, but their tactics will generally be to overwhelm, perhaps even grandstand.
If civilians want to initiate combat, they'll do so either via an ambush (social or otherwise) or by trying to initiate a duel.  In the former case, gangsters and punks will probably pin someone down in a back alley, knock them over and then commence with the kicking, while nobles will probably spring on someone in a place far from the eyes of other, inflict their damage, and then demand silence "or else." A duel is more open and formal, a challenge spoken and rules (unspoken or otherwise) declared, and then the battle fought, usually under the watchful eyes of others.  Here, the point of the combat is not just the defeat of the opponent, but a glamorous victory.  A stylish duelist can gain more than just victory over his opponent as he becomes the talk of the town and his reputation begins to rise.
Bodyguards and Hit Men
Bodyguards and Hit Men are likely to be nearly as skilled as soldiers (BAD 12-14) and may well be former soldiers, but typically less well-armed.  Nobles will have heavily armed and armored bodyguards, but more money will got to making them look good rather than having them be effective.  Expect weapons like vibro-glaives, force-glaives, force-swords, vibro-blades, or ceremonial blasters, and their armor might be a combat hardsuit, but it'll be a lovely, ornate one.  Criminals will have less elegant bodyguards and hitmen, but also less effective, as a truly excellent guard/assassin/combatant could expect superior employment.  Why be a hit man to some mobster if you can parley your talent for murder into a job for a local noble?

Both will tend to stand back and survey the scene.  Their job is to be unobtrusive, a beautiful and/or intimidating part of the scenery, until violence seems immanent, and then they spring into action.